About UCount Rewards Online Mall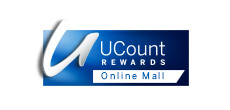 The UCount Rewards Online Mall offers the premier online shopping experience! Browse a multitude of special offers and enjoy the convenience of delivery to your door or, make memories with your loved ones with an experience tailored to your needs. Home, kids, health, beauty, E-Vouchers, and gadgets … we've got it all, so start shopping now!
Log in and shop online on the UCount Rewards Online Mall, using your qualifying Standard Bank Credit or Cheque Card and collect:
* Rewards Points may not be collected on airtime or E-Vouchers purchases.
---
Delivery information
What are my delivery options?
---
How much do I pay for delivery?
Delivery charges are calculated based on the distance from our nearest depot located in the following city centres being Johannesburg, Cape Town, Durban, Port Elizabeth and East London, to the chosen delivery address:
NOTE: Please note that delivery charges are calculated per order and will be displayed on the checkout screen.
---
Don't forget that you can also redeem your Rewards Points on the UCount Rewards Online Mall
---
Contact details:
Call the UCount Rewards Contact Centre
---
Shop now